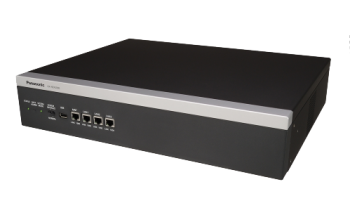 KX-NSX2000 / KX-NSX1000
Discover the new business communication server
Every business has different communication needs: connecting with their customers in different ways, in different places and using a range of devices. That's why today's mobile and fragmented workforce needs a communication solution capable of meeting the demands and expectations of their clients whenever they arise.
The KX-NSX helps companies provide a great overall customer experience by delivering the next generation communication system that meets today's flexible workforce and increased customer demands. So whether you have employees that work in various locations around the office, are adding new employees, setting up a new office, starting a help desk or setting up employees to work from home - the KX-NSX can easily adapt to your needs.
Backup and support whenever you need it
An automatic system back-up is activated, so if the primary unit fails a secondary unit is promoted to the working system, providing a totally resilient service to support the mission critical communications of your business.
Panasonic's cloud service enables maintenance and service to be carried out remotely, allowing for quick system recovery – anytime, from anywhere.
Be there for your customers whenever they need you
Communicate with customers wherever work takes you. Thanks to a multi-zone wireless system, you can receive calls on the go from different devices. You can even switch between desk phone and mobile during conversations.
Connect mobile devices as office extensions with the same number for efficient management and seamless customer service. Presence management features, text chat and video call functions provide greater mobility and business flexibility.
Unify business communications
Improve efficiency and enable users to utilise limited resources effectively through Panasonic's UC Pro support, video communication functions, a built-in call centre function, partner application linking and more.
Monitor callers in real time to understand and improve onsite problems. Produce call reports and save them to an external server to identify new opportunities and improve customer service.
What kind of communication fits with your business?
Whatever type of communication you need for your business, Panasonic's KX-NSX Series offers users a wide range of capabilities and features to suit your workforce.
---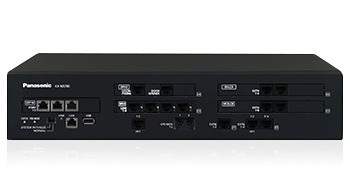 KX-NS7000
Business communications solution
Reduce costs. Increase satisfaction. Improve efficiency.
- Smart hybrid PBX system for small and medium-sized businesses
- Expand from 6 extensions, up to 288 extensions with Expansion Units
- Cost-effective installation and operation
- Built-in applications include call centre, mobile & voicemail solutions
Designed specifically for small or medium-sized businesses looking to take advantage of Panasonic's reputation for quality technology, without needing a huge budget, the KX-NS700 unified communications solution is a small system with the ability to manage big future growth.
Easy to install and maintain, it's a cost-effective legacy and IP communication system for companies with up to 250 users in a single site that can be flexibly configured and expanded, making it the ideal alternative to cloud-based solutions.
One flexible system. Multiple communications capabilities
Smart hybrid system
The system has sufficient capacity for legacy and IP ports, and an activation key or expansion cabinet that can be used to expand the system when you want. It can even connect to the Panasonic KX-NS1000 system to create a small, medium and enterprise solution.
Call centre solution
The KX-NS700 can support the needs of supervisors in call centres, such as queue announcements, live status monitoring, activity reports, automatic conversation recording and Network Attached Storage (NAS).
Advanced, rich features
The system starts from only 6 extensions, up to 288 extensions with Expansion Units. It is also a unified communications system which has rich IP features, such as mobile linking, integrated voicemail and e-mail, instant messaging (chat), and presence information.
Simplified installation and maintenance
The installer can easily programme everything related to functions such as PBX and VM, thanks to a built-in web server. Programming can even be carried out remotely.
Proven solutions for a range of industries
Hospitality
To deliver outstanding customer service in the hospitality sector, your staff need the support of effective and always-available communications technology. The KX-NS700 offers both. Comprehensive system management, PC integration and the flexibility to provide mobile communications throughout your business mean you're able to work more efficiently than ever before and your customers enjoy the most convenient, comfortable experience possible.
Healthcare
In healthcare environments, consistent, clear communications are critical. The KX-NS700 is a solution that allows your staff to access easy-to-use technology and remain in constant contact with other team members and patients or residents, wherever they are. Equally valuable is its ability to integrate with your existing care applications, such as emergency call systems.
Office Environment
Perfect for supporting office functions across your business, the KX-NS700 incorporates mobile telephony, desk-based phones and highly configurable voicemail systems to ensure that staff stay connected, wherever they're working. Combined, they improve functionality, reduce costs, simplify administration and enhance customer service.
---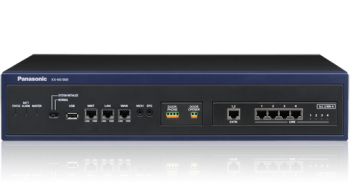 KX-NS1000 V3
IP Business Communication Server
Reduce costs. Increase satisfaction. Improve efficiency.
- IP and SIP network communication server
- Integrated unified messaging with up to 24 ports per unit
- Build systems for up to 8,000 users
- Reliable backup system to survive system failures
- Call centre solution with voice guidance for customers
- High-performance applications
- Talk to us
Based on the IP and SIP protocols, the KX-NS1000 offers a high level of flexibility and can be integrated into your existing infrastructure. Thanks to the modular architecture, the system can be tailored to suit your requirements – regardless of whether it's to be used in a small office with two people or a large company with several locations.
The system also supports a combination of TDM and IP technology, as well as systems based entirely on IP technology. Smartphones and tablet computers can also be seamlessly integrated, allowing you to enjoy all the benefits that working on your own device offers.
Furthermore, users of an existing Panasonic legacy PBX can easily migrate to an IP system by connecting a KX-NS1000 server. Legacy systems can also be expanded to perform partial migration according to the available budget. You can easily integrate your system with the KX-NS1000, depending on your specific needs or budget, because the KX-NS1000 is suitable for all kinds of businesses or industries, such as sales, customer service, hospitality, healthcare, and home teleworkers.
The KX-NS1000 provides an innovative unified collaboration and communication environment, including desktop tools, voicemail and an interactive voice response system (IVR). Fully transparent network features, first-class voice quality in HD wideband audio and swift capacity expansions make the KX-NS1000 the most complete Panasonic solution yet.
As the core component of a high-performance VoIP solution, the KX-NS1000 represents a secure investment, offering you optimum reliability and flexibility.
What's new about the KX-NS1000v3?
Easy setup
Even in remote locations, such as the homes of teleworkers, IP phones can be easily installed from a single site and used as extensions. The same method can be used to extend a VPN to the entire office network for more secure communication.
Gradual IP migration to suit your budget
In addition to customers seeking total IP migration, the KX-NS1000 supports phased implementation of future IP migration for customers that wish to use existing equipment.
Call centre solution
Voice guidance for customers and call data can be output to reports and analysed for improved customer satisfaction. Call data can be saved to an external server and exported as necessary.
Wireless solutions
Softphones and desk phones can be paired and used with a single extension number, which leads to improved work efficiency.
Varied terminal line-up
A wide range of terminals and handsets are available to meet various user needs.
Industries
Healthcare
The KX-NS1000v3 provides reliable mobile communication, enhanced call routing options and flexible integration with computers. These features make it the ideal solution, as it can easily be integrated into existing database technology and systems used in the healthcare industry.
Sales
The powerful and adaptable features that the KX-NS1000v3 provides are all that you need to keep in contact with and manage existing and prospective customers - such as the ability to integrate into the many CRM databases.
Education
The SIP functions of the KX-NS1000v3 offer a simple way for you to provide terminals across multiple campus locations. Integrating DECT and mobile phones means employees can always be reached - no matter where they are on the site.
Public administration
Public institutions can be large and complex. Incoming calls to these institutions must always be routed correctly and accurate call logs and reports are essential. The powerful IVR and unified messaging functions featured on the KX-NS1000v3 are easy to configure and ensure that these requirements are met.