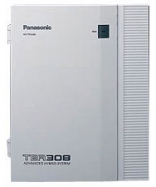 KX-TEA308E
Advanced hybrid telephone system
- 3 CO Lines and 8 Extensions
- Efficient Call Handling
- Day/Night/Lunch Mode
- Caller ID Display
- Voice Message (Optional)
- Easy Programming/Maintenance
The Panasonic KX-TEA308 analogue phone system is ideal for up to 8 users.
The Panasonic KX-TEA308 Telephone System has a wealth of vital features, coming fully configured as three lines and eight extensions. The KXT308 Phone System will accommodate single line devices such as pots (standard analogue phones), cordless etc. as well as proprietary key telephones which utilize system features to a maximum. There is a choice of four telephones for the KXT 308 Phone System, the KXT 7720, KXT 7750, KXT 7730 and top of the range KXT 7735 handset.
Panasonic KX-TEA308 Phone System Features: Automatic fax transfer, Automatic pause insertion, Call forward, Hold, Call pick-up, Transfer, Call waiting, Conference call, Data line security, Optional DISA facility, Distinctive ringing, Door opener, Last number redial, Intercom, MOH, Call barring, System speed dialling 80 numbers, Pulse/tone switchable.
---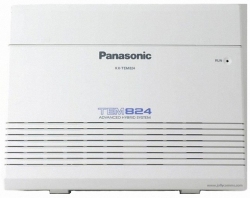 KX-TES824E
Advanced hybrid telephone system - up to 24 extensions
- Up to 8 CO lines and 24 Extensions
- Built in DISA / Message on Busy
- Built-in Extension CLI
- Bulit in Modem
- Voice Message (Optional)
- Built-in USB Port for PC Programming
The KX-TES824E is initially configured to 3 exchange lines and 8 extensions. With optional cards you can easily expand the capacity up to 8 exchange lines and 24 extensions. The system comes with built-in DISA / Message on busy, Extension Caller ID, Remote Modem and USB Port for PC Programming.
Featuring DISA (Direct Inward System Access) which allows outside callers to access any extension without going through an operator. Automatic greeting messages can be recorded by the operator of manager, directing the call to an appropriate department or destination. The system is smart enough to even detect an incoming fax transmission - routing the call automatically to a designated fax extension.
Extension Caller ID compatibility displays the incoming caller's phone number or name when used with a Panasonic proprietary display telephone. Up to 20 calls can be logged per extension.
The Optional Voice Message Card ensures you will never miss a call when you are not available. You can customize you voice mailbox, by recording your own greetings which will be played when you cannot answer your phone. This system supports the KXT7700 series range of telephones (KXT7735, KXT7730, KXT7720 and KXT7750).